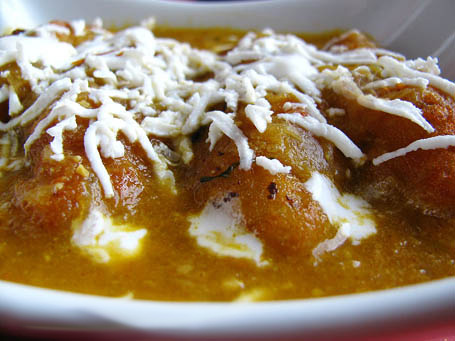 Sindhi Punjabi Malai Kofta Recipe, Learn how to cook Malai Kofta
Malai Kofta is basically a Moghul Delicacy, but it is Universally popular amongst Indians and many Non Indians too.
There are many versions of the Kofta, with the stuffing ranging from Malai(cream) and Paneer (cottage cheese) to boiled vegetables
Malai Kofta( Stuffed potato Dumplings, fried and dunked in rich onion tomato curry)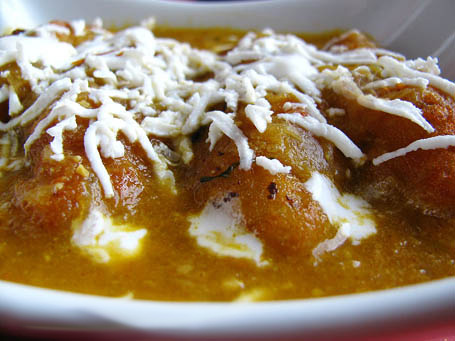 Malai Kofta
Recipe type: Main Course
Serves: 3
Prepration time: 30 mins
Cooking time: 45 mins
Total time: 1 hour 15 mins
Restaurant style Malai Kofta with red and white gravy recipe
Ingredients
For Kofte
Paneer(cottage cheese) 250 gms +50 gms for stuffing
Potatoes 2
All purpose flour and Cornflour -2 tsp each or Bread crumbs about 1 cup (or 6-7 bread slices dipped in water and squeezed out)
Salt
Thick cream(doubly thickened) or unsweetened Mawa(khoya)
Few Kishmish (raisins), and cashew nuts for stuffing
Green chillies 2
For Gravy
Onions 3
Fresh cream (optional) 2-3 tsp
Green chillies 3
Red Gravy 8-10 tsp (Recipe given below)
White Gravy 7-8 tsp (Recipe given below)
Milk ½ cup
Coriander powder ½ tsp
Kitchen King powder 1-2 pinch(es)
Kasoori Methi ¼ tsp
Salt
Turmeric powder

Method
Grate 250 gms of Paneer(save rest for stuffing) and boiled and peeled potatoes.Kindly note I use more potatoes , since my family prefers this way, while actually in 250 gms of paneer, 2 potatoes are added,
Mix salt, cornflour, All purpose flour (or bread crumbs or bread slices as mentioned in ingredient list) to make a smooth mixture(no lumps)
Divide the mixture into 6-7 portions
Take each portion on the palm of your hand, flatten it to make a disc shape and place on it some of the remaining paneer, some kishmish , cashew nuts(broken in small pieces) , some doubly thickened cream or Unsweetened Mawa and pack it again to make a sort of stuffed ball
Note I have made them in roll shape instead of circular (No hard and fast rules here)
Repeat the procedure for remaining mixture and deep fry these in hot oil on medium flame till crisp golden brown
If the mixture is too soft, the koftas might burst open in oil, so always first fry one and check. If they tend to break, then either oil is not properly hot or you might need to add some more cornflour or some more bread crumbs to the potato mixture
Place them on kitchen towel or tissue paper to get rid of extra oil.
For Red Gravy
Take 3 onions, peel and slice them and deep fry in some oil till brown in colour
Remove from oil and let the onions cool
Grind these with 2 -3 tomatoes, ginger,garlic (4-5 cloves), Whole garam masala(A small bayleaf, a bit of dalchini i.e cinnamon stick,1 clove,1-2 black pepper corn, just a bit of javitri or Mace flake, the skin of 1 black cardamom)
Add a bit of water if needed.This is the basic red gravy which can be used to make many gravy based veg and nonveg dishes
For White Gravy
Soak about 1 tsp of KhusKhus (poppy seeds) in few spoons of water or milk for few hours
Grind the seeds along with 6 -7 cashew nuts, 2 tsp melon seeds, till smooth paste is obtained(add some water if needed)
In a pan , add 1 tsp of oil and add part of a bayleaf, and saute it for few seconds
Add the khuskhus paste and fry the mixture on high flame (again taking care not to let it burn) . After 2 minutes add 2 tsp Cream , 1 tsp butter, 1 cup of milk
Simmer it for 4-6 minutes and use this white gravy for any gravy based dish
To Make final gravy
In a pan take 1 tsp of oil , add finely chopped onions and fry for some time till onions turn brown in colour
Then Add 8-10 tsp of Red Gravy and 7-8 tsp of white gravy, around ½ cup of milk, coriander powder, kitchen king, kasoori methi, salt and saute it for some time till the oil separates out
Add some water and let the gravy simmer for 5-8 minutes
While serving place the fried koftas, in a serving bowl and JUST BEFORE SERVING pour hot gravy over these.
Garnish it with some grated paneer, some fresh cream and chopped coriander leaves
Your Dish is Ready to Serve. Enjoy Sindhi Tasty Dish Malai Kofta……